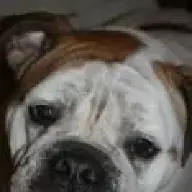 Joined

Apr 23, 2013
Messages

1,283
Reaction score

8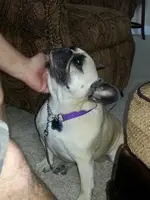 Location: Texas
Age: 8
Sex: Female
Weight: 29 lbs.
Kids: older, dog-savvy teens ok
Cats: Yes
Dogs: Yes
Fenced Yard: Preferred
Adoption Fee: $250
Our gorgeous butterball Fawnie is ready to find her forever home! Are you looking for a sweet girl to laze around the house with you? Fawnie's favorite thing to do in the whole wide world is sun bathe next to her people. If you are looking for a silly girl to be by your side as you enjoy your days at home, this could be the cupcake for you!
Fawnie is a big time loafer. She enjoys long days of napping interrupted by some scratches behind the ears. 90% of her daily activity is sleeping or lounging. She doesn't require walks, just ample time in the yard to do her business. Fawnie is not a lap dog but she loves to be near her people and see what they are up to.
Fawnie has a degenerative spinal disease and young children might be too rough with her. She loves all people but since children have a tendency to play rough, she can not live with them. The perfect home for Fawnie is one with a fenced yard she can stroll around and leisurely do her business. Fawnie would also prefer to live in a single level home without many stairs. The best family for Fawnie would have someone who is home with her most of the day or someone who can bring her to the office with them. Fawnie wants to be a companion to someone who leads a slow and mellow life, so a retired couple without young children around the house would be perfect for her. We hope Fawnie's new owners will have experience with dogs with degenerative spinal issues. She needs to live with someone who is patient, kind, and who will understand her medical concerns. Her new family needs to be OK with just cleaning up an accident and not freaking out and yelling at Fawnie. Another requirement is that Fawnie must sleep in the big bed at night with her people. (She never has potty accidents in her sleep) This is non-negotiable! Therefore, her new person must be able to lift her on/off furniture and up/down stairs. She must not ever be crated. She will tolerate being behind a baby gate for a little while but not at night.
Fawnie likes other dogs and kitties too, so she can live in a home with other mellow pets. Fawnie could live in a home with dog savvy teenagers who are educated on how to properly help her and prevent further spinal injuries.
Fawnie is mostly housebroken. Even with her spinal condition, she is still able to hold her urine, but she cannot hold her poop very long. She does not know how to alert you that she needs to go out, so she is kept on a strict potty schedule and let out into the yard regularly to minimize accidents in the house.
Fawnie has progressive spinal cord compression from a congenital deformity that has gotten worse with age. She can walk but is wobbly/weak in the hind legs. She is/was not a candidate for surgery. Unfortunately, she will most likely get worse over time which will result in hind end paralysis and will likely require the use of a wheel cart. Fortunately, Fawnie has a cart although she has not needed to use it yet. She is currently mostly continent, but as with most cart dogs, she may become incontinent. She cannot do stairs, but she will try if she sees you going up or down them. Her new owner must be vigilant in carrying her up and down stairs. She is also not allowed to jump on or off furniture, which she currently does not attempt to do. Tile floors are extremely difficult for her to walk on and her new home should have carpeting or throw rugs to help with her mobility.
Wanna adopt?
Please visit the French Bulldog Rescue Network's website and fill out an application. Click the Frenchie you are wanting to adopt, and you will find an "Apply For Me" button on their information. Please be sure to read their adoption process. Here is the link:
http://www.frenchbulldogrescue.org/adoption-info/available-dogs2/
To view more Frenchies from FBRN, follow this link:
http://frenchbulldognews.com/forumdisplay.php/38-USA-French-Bulldog-Rescue-Network
Please let them know you found them on French Bulldog News!