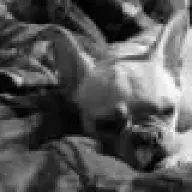 Joined

Jun 22, 2013
Messages

5
Reaction score

0
Hi all! I'm actually new to this forum but I am so glad I found it! I am a rather new french bulldog owner, I have a wonderful 8 month old baby and I love him to pieces! He is most certainly the best dog I've ever had and he's smart as whip (sometimes stubborn as a mule ;P but i guess that's just a frenchie thing).
Anyway! I have a question about my frenchie's eyes. It seems as though ever since I got him he has had a sort of thin film of clear substance over his eyes, eventually it flushes out and gives him eye boogers. it's not conjunctivitis by any means and I've heard that pugs seem to have the same issues but its normal for them? Cheddar isn't lethargic or anything and he's happy as can be. I will eventually get them checked out but I was wondering if anyone else has seen the same thing in their bulldogs? Is it serious? Is there something I can do in the mean time? Like i said, it doesn't seem to effect him physically but of course I am just a worried mommy.
hmy:
Any feedback would be much appreciated! Thank you!