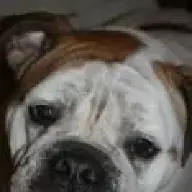 Joined

Apr 23, 2013
Messages

1,283
Reaction score

8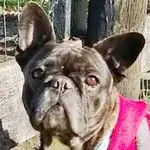 Location: Northern Virginia
Age: 7 years
Sex: Female
Weight: 23 pounds
Kids: No
Cats: No
Dogs: No
Fenced Yard: No preference
Adoption Fee: $500
Gorgeous brindle Isis is looking to find the perfect forever home. This happy little cuddle bug with a cute as can be underbite loves people and just wants to be a lap dog. She is a mellow girl looking for a quiet, easy-going home. Are you looking for a little sweetheart to be your one and only four-legged pal? Isis could be the perfect girl for you.
The perfect day for Isis would be staying by her person's side, cuddling on the couch while you read or watch TV, and going for some nice walks around the block. Isis does not need to much to keep her happy, just being by her person's side in a quiet home will do. Isis will play with toys a little bit, but mostly she just wants to snuggle.
Isis is a former puppy mill dog and has had a tough past. She is in need of some TLC and the right person to help her reach her potential. Isis is afraid of larger dogs and reacts negatively toward them. She doesn't so much dislike dogs her size, she just has fear reactivity and can be unpredictable. For these reasons, Isis should be the only dog and pet in her home. When Isis is not afraid, she seems to get along with dogs of her same size, but since she gets very scared of other dogs, she should be an only pet. Her foster mom has not seen her start a fight with other dogs, but when she is on the leash on walks, she acts like she wants to go after bigger dogs. If Isis sees other dogs fighting or having a disagreement she wants to jump right in. Isis will benefit from obedience training and having a strong leader in her new owners. Isis needs to feel safe; rules and boundaries will help her achieve that. When Isis displays unwanted behaviors towards other dogs this behavior comes from fear and lack of confidence, not aggression. Isis's new owners will need to be dedicated to working with her to overcome these fears and build her confidence.
Isis is housebroken, crate trained, and knows "sit." What a smart cookie! Because of her fear and lack of confidence, the perfect home for Isis is an adults-only home where she can be an only dog. Her new home should not have kids because she's afraid of noise and quick movements. Isis has a STRONG PREY DRIVE, so absolutely NO small CRITTERS! First time Frenchie owners would be fine for Isis as long as they have dog experience and are dedicated to helping her with her confidence. Isis barks when she is left alone so she should live in a detached home in a quiet neighborhood with very little traffic. She should not live in a busy noisy neighborhood. Since Isis will be the only dog it would be great if she is adopted by a family with a work from home or stay at home person. If her person works outside of the home she will need a dog walker to come by and take her out for a midday potty walk. Isis is not the best dog to bring with you to the office unless your office is very quiet.
Wanna adopt?
Please visit the French Bulldog Rescue Network's website and fill out an application. Click the Frenchie you are wanting to adopt, and you will find an "Apply For Me" button on their information. Please be sure to read their adoption process. Here is the link:
http://www.frenchbulldogrescue.org/adoption-info/available-dogs2/
To view more Frenchies from FBRN, follow this link:
http://frenchbulldognews.com/forumdisplay.php/38-USA-French-Bulldog-Rescue-Network
Please let them know you found them on French Bulldog News!