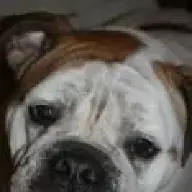 Joined

Apr 23, 2013
Messages

1,283
Reaction score

8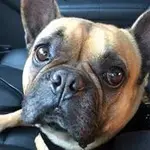 Location: Southern California
Age: 5
Sex: male
Weight: 30 pounds
Kids: Yes, older or dog-saavy
Cats: No
Dogs: Yes
Fenced Yard: Preferred
Adoption Fee: $500
King Louie is finally ready to find some permanent royal servants! (err, we mean, adoptive family). Louie's owner stopped having time for him and Louie spent more and more time outside and/or alone. That just didn't suit his regal tastes, and he commanded that he be surrendered to FBRN. Now he is pampered and coddled in his foster home, as every king ought to be.
Louie is a loving, playful frog who would make a wonderful addition to many families. He likes other dogs, and is very playful with his foster Frenchie sister. He is potty trained, has no food aggression, and even tolerates his bossy Frenchie sibling's refusal to share her toys and treats with him. Louie is a master snuggler and adores being petted and receiving attention. Although Louie does not like crates or kennels, he does just fine being confined to a small area while his family is not home. Louie would be okay with a family who works full-time, but of course a part time, or stay-at-home situation would be ideal.
Louie has one of those more athletic body builds and a decent amount of energy. He absolutely will need time to go on a good walk or have a good romp or play time every day or every other day, especially if his owners work during the day. Louie can be a bit eager and excited on a leash, and some dogs have reacted negatively to that, but he means no harm. Louie does not live with children, but his foster mom thinks he would be okay with them. However, he sometimes mistakes a hand for a toy during play time, and should therefore be supervised around children, so no one gets a painful nip. Louie should not be in a home with toddlers, just in case playtime gets too rowdy.
Louie has a history of esophagitis, so he will need to be monitored for recurrence. It's under control now, but his forever home will have to take some small precautions so everyone's life is easier. After Louie eats a meal, he should remain calm for a bit. Louie also has some remnants of a grass allergy, but baths every other week and living inside have left him itch free!
Wanna adopt?
Please visit the French Bulldog Rescue Network's website and fill out an application. Click the Frenchie you are wanting to adopt, and you will find an "Apply For Me" button on their information. Please be sure to read their adoption process. Here is the link:
http://www.frenchbulldogrescue.org/adoption-info/available-dogs2/
To view more Frenchies from FBRN, follow this link:
http://frenchbulldognews.com/forumdisplay.php/38-USA-French-Bulldog-Rescue-Network
Please let them know you found them on French Bulldog News!