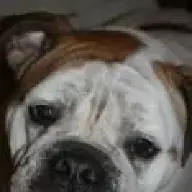 Joined

Apr 23, 2013
Messages

1,283
Reaction score

8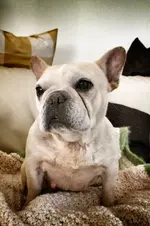 Location: Central Iowa
Age: 7 years
Sex: Spayed female
Weight: 19 lbs
Kids: Yes, dog savvy, older kids
Cats: No
Dogs: Yes
Fenced Yard: Not required
Adoption Fee: $250
Lolita was a puppy mill dog who ended up at a shelter in Missouri before landing with FBRN. While at the shelter, she was spayed and had a large mast cell tumor removed. The surgeon is fairly certain that he was able to remove it all, but this is something that Lolita's forever family would need to keep an eye on. Lolita has had one and two-month cancer screenings as well as ultra sounds and chest films while in foster care. We are happy to report that there are no signs of the cancer returning! The most recent check revealed the early signs of lumbar spondylosis (back arthritis), but Lolita shows absolutely no signs of pain and gets around pretty well. She has grade two patellas, and does have a little hitch in her giddy up, but it doesn't slow her down at all.
Lolita gets along great with other dogs. She has met dogs of all ages and sizes and does fine with them all. She LOVES her foster fur-sibling, a 3-year-old Frenchie mix, and tends to follow him around and do what he is doing. She isn't really dominant or submissive; she is just a well-balanced girl!
After about a month in foster care, Lolita decided the indoor cat was okay, but still needed to be chased from time to time. Outside kitties are not okay, and must be chased every-single-time! Lolita will leave them alone if told "no," but her foster mom has to watch her. For the safety and sanity of your cats, we can't recommend placing Lolita in a forever home with felines.
While Lolita does not actively seek out children, she has visited children aged 18 months to 6 years. She was not scared by the noise and chaos, and was fine when the kiddos decided to drag her around with her leash. (We do not recommend that you allow your children or visiting children to drag any dog around by the leash, pull their ears, ride them like a pony or otherwise annoy them, but we give this as an example that Lolita is pretty tolerant.) Lolita was also just as content to sit on the couch and watch TV with the kids.
Lolita is a very happy dog. She is a little aloof and very independent, but does keep an eye out for her person. She must be in the same room as her foster mom and prefers to lie next to her on the couch. Lolita likes hanging out in the yard, and she is active enough to go on daily walks, but also does fine with little exercise. She is pretty laid back, but does get excited when her person leaves for work or comes home.
Wanna adopt?
Please visit the French Bulldog Rescue Network's website and fill out an application. Click the Frenchie you are wanting to adopt, and you will find an "Apply For Me" button on their information. Please be sure to read their adoption process. Here is the link:
http://www.frenchbulldogrescue.org/adoption-info/available-dogs2/
To view more Frenchies from FBRN, follow this link:
http://frenchbulldognews.com/forumdisplay.php/38-USA-French-Bulldog-Rescue-Network
Please let them know you found them on French Bulldog News!