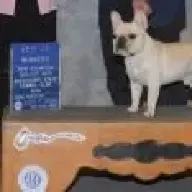 Joined

Apr 6, 2013
Messages

4,405
Reaction score

70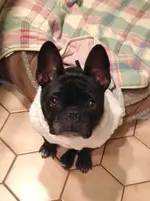 Mimi recently joined the ranks of CFBR Frenchie foster dogs. Mimi is a stunning little stubby brindle French Bulldog that turns heads wherever she goes. She is smart, affectionate and beautiful! Poor Mimi has been bounced around to three different homes in the last month, and this little girl is ready to put down some roots and settle into a new forever home that will dote on her!
Age: 5.5 years DOB: 3/08Sex: Female Neutered/Spayed? Yes Weight: 22lbs
How Foster Came to CFBR: as owner surrender
Reason for surrender: With original owner over 5 years. Her owner (wife) passed away and husband's new live-in companion did not like Mimi. Second owner had her for only three weeks when she decided she could not devote enough time to her. Mimi was spending minimum of 12 hours a day in crate, and was sleeping in her crate as well. There was a 17 year old daughter there that Mimi adored, but she was busy with school and extracurricular activities.
Temperament: Mimi is extremely affectionate. She bonded instantaneously with her foster mom. It seems that Mimi was adored by her first female owner who passed. She slept in bed with that owner at night, and was showered with affection. Mimi will want to snuggle in bed with new owner and cuddle in the evenings while watching TV. She is a dominant little girl, who will push the limits to see what she can get away with, but she is very responsive to firm, fair corrections.
Good with children? Little ones would be too much for her. She has been well behaved out in public with smaller children, but foster mom has monitored her closely. Mimi will only be placed in a home with dog savvy children over 14. Mimi is an opportunist. For instance, her foster mom's 17 year old son walked by Mimi while she was lying on a bed near her foster mom, and Mimi charged him. No biting , just a charge/challenge. Her foster mom simply told her "NO", and made her sit on the bed while her son walked by several times. She was praised for sitting quietly, and then was fine.
Cats? Only as a snack
Other dogs? Mimi has been an only dog, and should remain an only dog. Outside and in public she is very well behaved with people. She is also generally well behaved with dogs out in public as long as food does not enter into the mix. You do have to watch for behavioral cues that might signal her dislike for another dog. She responds well to corrections on leash. Mimi is not a dog that will frolic with other dogs off leash at a dog park. She needs a confident owner who will correct her and ensure the proper canine etiquette.
Food aggression? Only with other dogs, that foster mom has seen. No problems with foster mom picking up her food while she is eating.
Diet: Mimi is currently doing well on a diet of 1/2c of Eukanuba Excel mixed with a high quality wet food. She is a food girl, and will lick her bowl clean. She eats twice a day.
Health: Mimi is up to date on her shots, and was heartworm negative. She is on Frontline Plus and Heartguard Plus.
Her coat is wonderful, and she has the distinction of being one of the few fosters we have gotten in without skin allergies- yeah Mimi!
Our vet has given Mimi a full examination. Mimi does seem to have a slight weakness in her hindquarters. It does not affect her mobility or potty habits, but when she walks she seems to have a "looseness" in her back end. She bunny hops when she runs. Mimi has been started on Dasaquin, a joint supplement to give her an advantage in that area. Mimi navigates a few stairs easily, but needs a home without a lot of stairs. She will not often jump up on furniture. She likes to have her little stubby self lifted and set down.
Cratetrained? Mimi was crated at her last home for long hours. Initially she will cry and yelp, especially if she is within sight of you. Mimi settles down in her crate after awhile. She is not being crated in her foster home, as her foster mom thinks she has spent enough time in a crate as of late. Mimi craves human companionship.
Housebreaking: Mimi will not have accidents in her crate, and if she is not crated, she needs to go out every 4 hours or so. She can make it through night if she is sleeping with you. She seems able to transition easily to new habits/situations.
Ideal Adoptive Home: Mimi is a truly beautiful French Bulldog. She is stocky, cuddy little Frog with an adorable little smushy face. She is a true Frenchie girl: confident, full of herself, and always on stage. This little diva needs a theatrical manager to keep the drama under control. Mimi's ideal adoptive home should have an owner either with previous Frenchie experience or who has had experience with a fairly dominant dog. Mimi is a silly little clown at times, so a sense of humor and appreciation for her comical antics are a must.
Mimi's new home should be willing to allow her to sleep on the bed and snuggle on the furniture. Mimi loves most toys, and enjoys a game of fetch from time to time and short walks weather permitting. It is not imperative that her new home have a fenced yard, but it would be preferred. If not, Mimi will need to be leash walked. Mimi would do best in a home that is somewhat quiet; not too chaotic. She would be fine with one or two older children (15 or older) that are dog savvy and would not be intimidated by a dog with a strong personality.
Mimi needs to go out every four hours except at night, so her new owner should either work from home or have a flexible enough schedule to accommodate her potty breaks. Mimi would not be a good candidate for doggie daycare, but should be fine with someone coming to let her out if they are acquainted ahead of time.
Most of all Mimi needs a home that will love and cherish her…..could that be you????
Mimi's adoption fee is $450. To apply for Mimi, please Download our application by
clicking here
.
Wanna Adopt?
Please view the adoption process and fill out an application at their website ---> frenchieporvous.org
To view more available Frenchies from this rescue, click this link ---> Chicago French Bulldog Rescue
Thank you for considering adoption for your next family fur-mate!
Please let them know you found them on French Bulldog News!