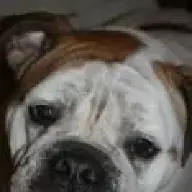 Joined

Apr 23, 2013
Messages

1,283
Reaction score

8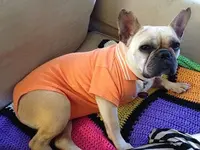 Rose or affectionately known as Rosie Posy and Princess Tinkles. If you were to look up cute in the dictionary, it would not surprise us if a picture of our Rose was right there. This girl is cute with a capital C. Rose has been through a lot in her short life. Rose was found near death by a police officer who brought her to a local shelter. She was in very rough shape. She had intestinal parasites, a maggot infestation on her back, in her anus and her vulva, and she was very malnourished. The shelter contacted FBV to take Rose in after her initial hold was up. FBV zoomed in, scooped this girl up, and well the rest is history. We got her fixed up and threw in a spit and polish job. All of her beautiful Blonde fur has grown back except for a small nickel sized scar on her back, which is nicely hidden by her longer top coat. She is up to date on her vaccinations and has been spayed.
One condition does persist. Our little Rosie is completely incontinent. Unfortunately, this will be a lifetime ailment for this little girl. She has no control over her functions and really has no idea it is happening. She has been put on specific bladder medication to control dribbling and it has worked wonders. Now her bladder holds for some time and, it can be expressed before she loses control. Additionally her bowl movements are just as uncontrolled. Her little body seems to stay to a schedule and she has the digestive track of a champion. She has very firm stool and usually you can time a bowl movement relative to her waking up and when she ate last. When needed, this little girl wears her diapers and a cute little onesie to hold it all on. She doesn't mind at all and loves the attention of having her little suites put on. We use regular disposable baby diapers as she doesn't have a protruding tail. They are easy to change and she is very comfortable in them as you can see in the pictures.
She is sweet and snugly and loves people. Her best furry friend forever (BFFF) is a 1-year-old Great Dane, she also enjoys naps with her Frenchie Foster Brother and English BD Foster Sister. If you like to go for walks, this little engine that could will keep up with you every step of the way. She knows how to play with the best of them and knows how to enjoy the relaxation of a couch potatoes life. She enjoys car rides, and has been on a family vacation to the Great Lakes in Michigan. She was spotted by the paparazzi testing out the water.
She is part Billy goat, we're sure of it. If it can be climbed she will master it, especially if she wants to get a good look outside. She will also devour it, if "it" is some form of food product. She is our little tomboy, she is as girly as the next Female Frenchie but she doesn't mind getting down and dirty if called for.
Rose would work well in either an apartment or a house. Just keep in mind she is still young at only 3 and needs her exercise. She is crate trained and walks well on leash. Her manners are improving but her forever home should be committed to continuing her obedience training. She especially needs continued work on jumping up. She is so excited to see you; she just can't seem to understand she shouldn't jump all over you to give as many kisses as possible. For this reason, a household with young children is not recommended, as she would most likely bowl them right over. Rose has not been around cats, though based on witnessed behavior, this little girl shows a healthy prey drive. Cats may not be the best roommate for this spitfire.
If you can open your home and your heart to this little girl and accept her special needs, you will be granted an amazing thing, her love and devotion. Rose truly is a gem, and deserves nothing but unconditional love and support.
Rose's adoption fee is $350
Wanna adopt?
Please view the adoption process and fill out an application at their website ---> frenchbulldogvillage.net
To view more available Frenchies from this rescue, click this link ---> French Bulldog Village
Thank you for considering adoption for your next family fur-mate!
Please let them know you found them on French Bulldog News! :2thumbs:q
Last edited: