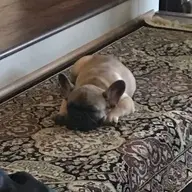 Joined

Dec 31, 2014
Messages

1,994
Reaction score

203
Rusty definitely is not a silent dog, even though he loves to cuddle, and be at my side and play, he barks a lot, which I'm trying to teach him to do less of, when he gets excited or nervous or scared of a person or other dog or he wants something he barks and he is very loud.

Same thing when he wants something he does that loud Frenchie scream! He is a vocal dog but very funny🙂

I really like the fact that they like their crates and also the other dogs crates, so cute.

Well I don't know if he loves the baths, he gives me dirty looks And then avoids goi g upstairs, once he is in he is fine and sometimes I think he enjoys being in the bath but he hates any water so he really isn't loving the baths however when he is done in the bath he races around and feels good and when I say "did you have a bath, are you handsome?" He climbs on me and plays and licks my face. So it's kind of get it over with and to get him in the bath, sometimes he waits at the tub, but very unusual lol!


Yes Rusty had his soft palate surgery and nostrils opened more last November.
The surgery was one of the best things I did for him, if he gets neutered for example while he is under anesthesia, ask them to do his nares, and if his soft palate needs to be done, do it while he is out!

I wouldn't say it's a major surgery but if he needs nares done same with palate getting it done is a big relief then having to worry about him falling over and something happen like Rusty almost did.
but it's a relief knowing they come out with a great airway and you wouldn't have to worry about something happening to him because he can't breathe properly.

If you get the surgery done after he is 2 years old then the palate won't grow back because the dog is done growing.

Jelly is likly snoring more cause as he grows his nostrils close more and his palate grows with him. If his nostrils are closed it will put more work for his palate to do.

It's a little more recovery time(no playing for 3 weeks, that's what the vet said for Rusty and the palate is usually healed by 3 weeks). We noticed immediately his breathing was way better.
And for the first 3 weeks after surgery he needs soft food while the throat heals(he is on RR anyway so it's soft food only and no kibble during that time-thankfully Jelly is already on good soft food😊👍)

I can't highly recommend that surgery enough for the palate and the nares.
I asked my vet practice (major one here) about nares and palate surgery. They do nares but not palate, at least that is what I remember them saying. I am so afraid Jelly will be in pain eating and uncomfortable. I agree, however, that it would be so beneficial for them going forward after the recovery period. I didn't know that the palate continues to grow until two.
Off the track, but have been meaning to ask you - what canned dog food do you recommend? We feed Petey a tablespoon in his kibble to make it more palatable. He gets Acana kibble. I want to feed him the best wet food. Thanks!