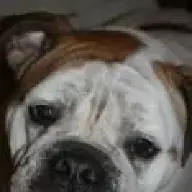 Joined

Apr 23, 2013
Messages

1,283
Reaction score

8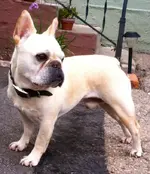 Shermie, Sherman, Sherbutt: He is all of them. If you ever wanted to own three dogs in only one body to take care of, Sherman is your guy! Sweet and cuddly, playful and attentive, and a grumpy ol' guy, who has occasional grumblings with his dark lord – there is rarely a dull moment with Sherman. Here's the kicker! Most rescue dogs that I have fostered have had their best experiences with the women in their household, but not Sherman. He prefers men!
Sherman gets along best with submissive male dogs. He was regularly attacked by the small resident Frenchie in his home, and can be a bit possessive of attention. He would be ideally placed in a home without other dogs, or with a dog that is non-confrontational. Play should be guided, so as not to escalate. He can be possessive of food with other dogs and humans. I would not recommend this sometimes grumpy man with children. Sherman is crate trained, but does have some "howling" separation anxiety. I don't liked to be poked, and Sherman doesn't like his nails trimmed. I kind of remember not liking to take baths when I was his age too. Sherman, becomes SherBUTT in the bathtub.
With all of his quirks, this hopping Frenchie boy has the most amazing greetings to me when his human returns home.
Earning his trust is a gift to be prized, because Sherman doesn't pass it out for free. He will love the person who loves him most.
Adoption Fee: $200
Wanna adopt?


Please visit the French Bulldog Village's website and fill out an application. Read the Adoption information and fill out an application, make sure you read and understand their adoption process.

Here is the link:

www.frenchbulldogvillage.net


To view more Frenchies from French Bulldog Village, follow this link:

http://frenchbulldognews.com/forumdisplay.php/39-USA-French-Bulldog-Village

Please let them know you found them on French Bulldog News!