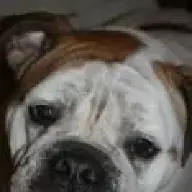 Joined

Apr 23, 2013
Messages

1,283
Reaction score

8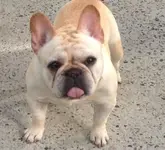 Name: Tuffet
Age: 5, She will be 6 in July
Gender: Female
Color: Fawn
Weight: 24 pounds
Spayed/Neutered: Yes
Temperament: Quiet and Reserved, Couch Potato
Temperament Details: Tuffet loves to sleep. She is a couch potato, but she cannot be left unsupervised. She does have a curious nature and will chew on cords. For her safety it is recommended she is crated when no one is home and she is not left unattended in a room alone. She does not always listen when called which is typical sometimes of bully breeds.
Activity Level: Couch Potato
Likes Dogs: Likes All Dogs
Likes Cats: Unfamiliar with Cats
Likes Kids:Yes older, quiet children would be best
Object Aggression: Not at All
Veterinary Status: Yes
Handicapped: No
Medical Issues: No ongoing medical issues. Explanation below in her write up and some mild allergies typical of French bulldogs.
Medical Issues Defined: No long extended walks, shorter walks in cool weather only
Dog Registered: No
Crate Trained: Yes
Housebroken: In Progress
Formal Training: No
Shipping Okay: No
Requested Fee: $500.00
Reason for Placement: Tuffet is a sweet frenchie girl. She was surrendered when her owner's health declined. One of the EC 12 that were surrendered
Tuffet is a wonderful frenchie gal. She is a complete couch potato. She loves nothing more than to sleep, eat, and cuddle with her person. She came into foster care with ear infections. She is now on a grain free food that has helped clear up her allergies and keep her ears free of infection once they were treated. It will be required she continues to be fed a grain free diet for this reason. She can not jump on furniture. She is a short legged frenchie. However, she loves to lay on the couch with her person. She also prefers to lay in a crate throughout the day. In her foster home, there is a crate with the door kept open so she can go in and out of it as she pleases. She cannot be left unsupervised, she can be a curious girl and will chew on any electrical cords she can find. For her safety, it will be required that she is crated when left home or unsupervised. Tuffet spent the first 5 years of her life in a pen by herself so everything is new to her. She was bullied and beaten up on by the other dogs in her former owner's house. Tuffet's life changed drastically when she was surrendered. She has led a caged life indoors and had never experienced the great outdoors before, not even to potty. She was trained to use pee pads indoors and may have accidents on rugs mistaking them for pee pads. Her current foster home has all hard wood floors so we are uncertain how she will be on carpet. A home with hard flooring and no concern of her having an accident on a rug would be best. Due to the stress of her surrender, traveling across 3 states to foster care, never being outdoors, she did not eat nor sleep for a couple of days. The first day in her foster home when taken into the unfamiliar outdoors where she had never seen grass before in her 5 years of life, she had seizures that day only when she had to go onto the grass. Living in a pen her whole life, her feet had never touched a different surface and grass was sensory overload for little Miss Tuffet. She was taken to the vet and after a panel of blood work was done, there was no medical reason that could be found for her seizures. Her vet stated that her blood work looked "excellent!" "Most dogs have something show up on their blood work" but not Tuffet. Tuffet had never had a history of seizures and has never had another seizure since. The seizures experienced that day are believed to be from a lack of sleep, food, and stress. Tuffet has progressed wonderfully from that day. It took about a week for her to sleep through the night. She sadly howled due to all the unfamiliar changes, not realizing her life had changed for the best. Now she sleeps quietly and peacefully through the night in a crate in her foster parents' bedroom (except for some mild snoring, typical of a flat faces frenchies
Tuffet's ideal home will be one that is patient with her house training and transitioning her into her new environment. She does not signal to go outside, but does well on a schedule. She is currently feed twice a day and taken out immediately where she does her bathroom duties within a few minutes. She is also taken out throughout the day. Her ideal home will continue to patiently to work with her. A back yard is also ideal. Tuffet is not a frenchie that can go walking for long distances. She will overheat easily and just doesn't have the build nor stamina for long walks. A fenced backyard is perfect to let her out to roam the yard and do her business and then come back inside. She will not be a dog to take to dog parks nor walk around the neighborhood except for very short distances and not at all in the heat of summer. Air conditioning is a must for her. She is fine with other dogs, but is not energetic enough if someone is looking for a play mate for their current dog. However, after about a month in foster care, she now occasionally has a very short romp with the other frenchie in the house before retiring to a Nylabone or a nap. She is very curious and follows her foster parents around the house. Her new home will need to continue a grain free diet to avoid future allergies and ear infections. With the few seizures she had, she will only be able to have topical flea preventive and heart guard heartworm medicine. Trifexis and Comfortis are contraindicated for a dog with any history of seizures. A crate is a must for her safety when not supervised. Tuffet is a wonderful couch potato companion. She is very sweet and sometimes just props her head on your leg with a love on me look in her eyes. She is super cute and wants nothing more than a human companion that will share some couch time with her, and an occasional nylabone and cow hove to chew on. Someone home with her most of the day would be perfect. A mid day potty break is a must when crated for a period of time. After spending her first 5 years of her life in an unconventional style, Tuffet deserves to be shown what life should really be like for any companion, frenchie gal. Please apply for Little Miss Tuffet if you think she would be a perfect companion to share a couch with providing this sweet girl a comfy place to lay and a loving home for her to call her own forever home.
Wanna adopt?


Please visit the French Bulldog Village's website and fill out an application. Read the Adoption information and fill out an application, make sure you read and understand their adoption process.

Here is the link:

http://frenchbulldogvillage.net/


To view more Frenchies from French Bulldog Village, follow this link:

http://frenchbulldognews.com/forumdisplay.php/39-USA-French-Bulldog-Village

Please let them know you found them on French Bulldog News!
Last edited: