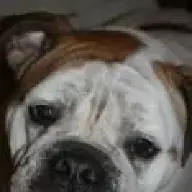 Joined

Apr 23, 2013
Messages

1,283
Reaction score

8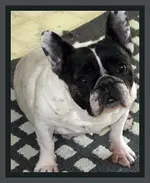 Location: East Central MO
Age: 6 years
Sex: Spayed Female
Weight: 25lbs
Kids: YES 7+
Cats: YES
Dogs: YES
Fenced Yard: Preferred
Adoption Fee: $450.00
Aizzy is a sweet, easy going girl who hasn't met a person or another dog she doesn't like, but she especially loves dogs her own size she can play chase and wrassle with. Aizzy is usually content to follow the pack around and is generally a submissive girl, but she will stand her ground if she's pushed or attacked (she just doesn't like to be bullied, and who can blame her?) The kitties in her foster home really hold no interest for her either; in fact, she just ignores them. Aizzy has shown no food aggression and eats all her meals and treats in the company of her foster fur siblings! She used to live with a very young child, however she sometimes guards her favorite bone, and though she is easily corrected by her foster parents, we think dog-savvy children over 7 years old who won't tease her (and whose visiting friends won't tease her!) would be best.
She just wants a soft place to rest her head, some yummy food and a few toys. What Frenchie doesn't? Aizzy's favorite things are chewing on bones and de-stuffing toys. She truly loves to be near her people; she's always ready for an ear or belly rub!
While in foster care, Aizzy has been given a tune-up from top to bottom. Aizzy is very prone to ear infections, so her new family will need to be dedicated to scheduling regular ear cleanings for her to make sure her ears are kept clean. She had a tumor removed from one of her ears, so that ear will also have to be watched to make sure there is no regrowth – great to check during her regular ear cleanings! Aizzy's foster mom says shemay be slightly hard of hearing, but then again she could just have that infamous selective Frenchie deafness! Aizzy came into FBRN with compromised breathing,but we've fixed her up by having her nares widened. Now she breathes much easier! Aizzy has also received entropion surgery (her eyelashes were rubbing against the surface of her eye and scratching them) and also had some Ectopic cilia removed. While she no longer has any issues with her eyes, they will still need to be monitored in the future. Not to worry, Aizzy's foster mom will go over everything with her new family! Lastly, Aizzy appears to be a bit weak in the rear. While she is still very mobile (check out her awesome video below!!), xrays from 8-25-2011 show that Aizzy's knees have significant arthritis and deterioration. She is currently taking Adequan injections with daily doses of anti-inflammatories and Dasuquin, which has been shown to improve joint health. In the future, she may need ongoing treatment and/or surgery in order to keep her mobile and comfortable, but right now she seems happy and comfortable with the treatment plan she is currently on. Due to her arthritis, we recommend that she not be allowed to jump on or off furniture. Aizzy also loves to snuggle with you and she'll need to be taught to use a set of pet stairs to share the couch or you'll just have to give her a hand up and down. Again, she continues to be a very loving, mobile girl and will make a great addition to a low-key family. She loves kids, dogs, cats, and especially cookies!
As far as potty training goes, she does just fine as long as she's kept on a regular schedule. She knows outside is the appropriate place to go out and potty, however she's not the best about signaling to go out. Sometimes Aizzy will let you know she's unhappy about being left behind by leaving a little present in the house. For example, if Aizzy's foster mom goes into the bathroom or to the basement without her, Aizzy will surely let her know of her displeasure!
Aizzy has some separation anxiety and gets far too worked up if left crated (she's been known chew the bars on her kennel and cause her mouth to bleed). She's not normally destructive; she just wants to be out with her foster fur siblings so we recommended the use of a secure dog gate to contain her either in the kitchen or a small uncarpeted room.
The ideal home for Aizzy would have at least one other dog, preferably dogs her own size. Due to her separation anxiety, a schedule in which her person/family is gone for long hours would not work for her. Ideally, her new person/family should either work in the home or be able to take her to work. Traffic makes Aizzy nervous, so a home in a quiet neighborhood would make her happiest. A fenced yard would be nice, but not mandatory since she would really rather just be with her people. Short walks to let her potty would be sufficient for her. Also, because of Aizzy's arthritis, a home with very few or no stairs is preferred.
Wanna adopt?
Please visit the French Bulldog Rescue Network's website and fill out an application. Click the Frenchie you are wanting to adopt, and you will find an "Apply For Me" button on their information. Please be sure to read their adoption process. Here is the link:
http://www.frenchbulldogrescue.org/adoption-info/available-dogs2/
To view more Frenchies from FBRN, follow this link:
http://frenchbulldognews.com/forumdisplay.php/38-USA-French-Bulldog-Rescue-Network
Please let them know you found them on French Bulldog News!
Last edited: