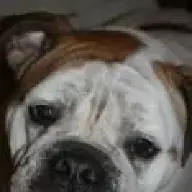 Joined

Apr 23, 2013
Messages

1,283
Reaction score

8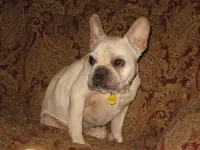 Location: GA
Age: 3 years
Sex: male
Weight: 28 lbs
Kids: no
Cats: no
Dogs: no
Fenced Yard: required
Adoption Fee: $250
FBRN's very own Alexander the Great has moved over to the available page and is ready to find the perfect forever home! Alexander was surrendered because his prior family was unable to afford the expensive care needed to manage his allergies and skin issues.
Poor itchy Alexander suffers from severe food and environmental allergies that must be managed with a special diet, regular baths, and some medications. He is also deaf and has a neurogenic balance issue. He is able to get along fine, but needs to be watched around stairs or things he could fall off of. While in foster care, he had his nares fixed, so he breathes a lot easier now.
Alexander's foster mother reports that he is a couch potato who just loves to snuggle up with his people. He seems to like dogs, but does resource-guard and has been known to unpredictably become aggressive when challenged. He also likes to chase kitties, so a home with no other pets would be best for him. He hasn't spent much time with children, but given his unpredictability, a child-free home is necessary just in case. He has shown absolutely no aggression to humans in any circumstance – he just doesn't want to share his people or toys with other dogs!
Alexander is a known escape artist. Applicants should have a eye for foiling escape attempts! He can unlatch his crate, and unhook gates if the latches are in reach.
Though crate trained, Alexander has separation anxiety and does not like to be crated at all. If crated out of sight of his people he will bark and sometimes urinate in his crate if left too long. He is mostly housebroken, but needs to be kept on a strict schedule to avoid accidents. Adopters should be prepared for a period of adjustment and the possibility of some reversion in his potty habits in the first weeks following his move.
Alexander is a pretty low-key Frenchie. He does not like to be left alone outside and isn't one to go on long walks. He would be ok in either a house or apartment, but his barking when left alone could bother some neighbors, so think about your situation before you apply. Stairs would also be an issue, and due to his deafness if he has a yard it absolutely has to be fenced. A person who would be home all day is strongly preferred, but Alex could possibly go to an office if there were no other dogs present, and he was not left alone. Bully experience would be helpful but is not mandatory.
Wanna adopt?
Please visit the French Bulldog Rescue Network's website and fill out an application. Click the Frenchie you are wanting to adopt, and you will find an "Apply For Me" button on their information. Please be sure to read their adoption process. Here is the link:
http://www.frenchbulldogrescue.org/adoption-info/available-dogs2/
To view more Frenchies from FBRN, follow this link:
http://frenchbulldognews.com/forumdisplay.php/38-USA-French-Bulldog-Rescue-Network
Please let them know you found them on French Bulldog News!