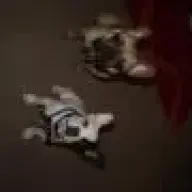 Joined

Oct 29, 2013
Messages

193
Reaction score

7
When we got Winston as a pup we spent days researching dry foods, visiting various retailers etc. We settled on a quite expensive one that used human grade meat/fish with potato (no grain etc) he got on fine with it apart from the fact he just looked miserable at feeding time, push it about, graze etc. He would eventually eat his daily quota. A raw feed shop opened up in our town so we went along and started him on a initial 6 week raw feed programme. We are in week 5 and HE loves it, he would inhale his food if he could. However it's been a long 5 weeks the handling of the food/blood etc has taken some getting used to. His bowels movements are now fewer, firm and chalky with a few odd days of sloppy ones ( apparently this is normal during 'detox' weeks? He has taken to licking his paws incessantly & he's done a bit of scooting past week (not sure if this coincidence or the diet change). His coat went quite dull but this has now recovered. The lady in the shop assures us it's all normal and to stick with it and he will benefit from it in other ways ie breath odour , which is good, his teeth are nice and clean naturally (an aid of stag bar) his coat etc will improve. We also put DE in his food as advised by the lady to help as natural wormer and rubbed into the fur a flea repellent.
Just would like to compare notes
reading other posts I've just ordered some of the antibacterial wipes recommended to try on his face and paws.