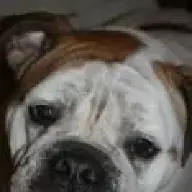 Joined

Apr 23, 2013
Messages

1,283
Reaction score

8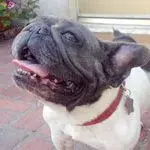 Location: Southern California
Age: 3 years
Sex: Spayed female
Weight: 24.4 lbs
Kids: Yes, 10+
Cats: Yes, dog savvy
Dogs: YES!!
Fenced Yard: Preferred
Adoption Fee: $600
Audi was surrendered to FBRN when her former owner became seriously ill and needed all her energy to manage her own care. At the time, Audi was in need of a great deal of care herself. She was suffering from allergies that were making her very itchy and had indirectly resulted in a hematoma in her left ear flap. Her right ear was so badly infected that it had swollen shut and required ablation surgery. She also had a cherry eye, a small lump in one of her mammary glands, and retained puppy teeth that needed to be removed! The good news is that, since being in our care, she has been spayed, has had her hematoma and cherry eye repaired, has had her puppy teeth and mammary lump removed (it was benign), has undergone her much-needed ablation surgery, and is on prescription allergy medication. Audi is all fixed up and ready to find her forever home!
Audi adores people. She is also well socialized and absolutely fantastic with dogs. She instinctively knows how to interact with both of her foster sisters. She is her feisty Frenchie foster sister's playmate, and almost always initiates the play. They wrestle and play tug until they are exhausted. With her older, slower and much bigger bullmastiff foster sister, Audi is a calm, comfortable companion. She likes to sit quietly with her bottom touching her "big sister." Her previous owner stated that she was fine with cats, so a home with a dog-savy cats will be considered. She even reacted well to the resident rabbit, with curiosity but no sign of aggression! She is always up for a good old-fashioned wrestling match, a game of tug... even a game of fetch! She is affectionate without being needy, and is perfectly content snoozing on the floor by your feet. Audi's house manners are impeccable. She is house trained, crate trained, goes to the door to be let out, and does not jump onto furniture by herself. She is not accustomed to stairs, so if you have stairs, you may need to carry her up and down. Audi would love to have a stay-at-home person, but would also make a great little office dog. She rides very well in the car in her little seatbelt harness. She would also be fine left at home during the work day as long as she has another dog for companionship and a mid-day potty break.
Audi enjoys little walks on a leash, but she is snorty and overheats easily. For this reason, a fenced yard is preferred. Her allergies are under control with Temaril-P and Zyrtec on alternate days, a grain-free, fish based diet, and weekly baths. Her forever home should be committed to keeping her allergies in check and her left ear clean and infection-free so that she remains comfortable. The ablation surgery and a course of antibiotics appear to have taken care of the infection in her right ear, but her adopter must be aware that she is deaf in that ear, and that in 5-10% of cases, within two years of the ablation, the ear could begin to drain. If this happens, a second surgery may be necessary.
Wanna adopt?
Please visit the French Bulldog Rescue Network's website and fill out an application. Click the Frenchie you are wanting to adopt, and you will find an "Apply For Me" button on their information. Please be sure to read their adoption process. Here is the link:
http://www.frenchbulldogrescue.org/adoption-info/available-dogs2/
To view more Frenchies from FBRN, follow this link:
http://frenchbulldognews.com/forumdisplay.php/38-USA-French-Bulldog-Rescue-Network
Please let them know you found them on French Bulldog News!