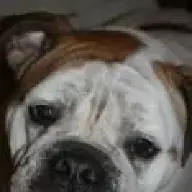 Joined

Apr 23, 2013
Messages

1,283
Reaction score

8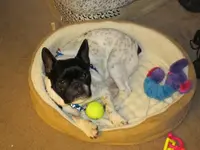 Location: NE
Age: 5
Sex: Male
Weight: 30 lbs.
Kids: 10 years and up
Cats: Possibly, if dog savvy (see bio)
Dogs: No
Fenced Yard: Preferred
Adoption Fee: $250
***BENJEN HAS A BITE HISTORY***
If you are patient, loving, and have a soft spot for misunderstood bad boys, read on! Benjen might be just the dog for you.
Benjen suffers from stranger anxiety, and he was surrendered to FBRN after he bit somebody (without breaking the skin) in fear. During his first week in foster care, Benny wanted nothing to do with his foster mom, and spent most days giving her stink eye from across the room. Fast forward ten months, and you'll find him giving kisses and cuddles to not only his foster mom, but the resident cat as well!
Although he's made great strides, Benjen is still nervous around strangers, so his forever home must be prepared to work with him--and it may take some time and professional guidance--on this issue. Although Benjen has not seriously bitten anyone during his time in foster care, he will bark and nip at the fingers of strangers who come into his home. Visitors must be trained to ignore Benjen and to turn away if he tries to jump on them. Having him sit and stay before a stranger enters the home is also an effective way of curbing negative behavior. Once everyone has arrived and settled, visitors can throw a tennis ball for Benjen, which breaks the ice and helps create a less stressful environment for him to come over and say hello.
Benjen is a very smart boy who responds well to correction (of both the verbal and squirt bottle variety). He knows a variety of basic commands, including "sit," "drop it," and "leave it," and he is a great candidate to learn more tricks in his forever home. He is 100% housebroken and crate trained, and he has no problem staying in his crate for extended periods of time—in fact, he quite enjoys it in there. Benny love love LOVES chasing tennis balls, and if they're the squeaky kind, so much the better! He also enjoys playing tug-o-war with his stuffed animals, but heads up—he will eviscerate his toys and remove the squeaker if left to his own devices!
Benjen doesn't much care for other dogs. He is known to guard both his owner and his territory from other canines, and dog parks are much too stressful for him. He has, however, bonded with the resident kitty, who is a calm sort and doesn't run away when Benny approaches—a good thing, because Benny would give chase! A dog savvy cat who won't run away could be a good match for Benjen. Benny also likes children, but he can get so enthusiastic running around and playing with them that he will nip out of excitement, rather than aggression. For this reason, we ask that any kids in the household be over age 10, and able to understand that sometimes Benjen needs a little space to decompress--and any kid visitors must be made aware of this, too.
An office environment would not be ideal for Benjen, given his stranger anxiety. He is happy to stay at home while you earn some biscuit money, so long as you can come home at midday for a potty break and maybe a few rounds of fetch. He could probably get used to a dog walker with enough time and patience, but he would not do well with different people walking him every day.
Benjen also suffers from seasonal allergies and early onset arthritis. His allergies are under control with OTC medication, but his arthritis requires additional and continuous treatment. Right now, he receives a number of daily supplements (including omega 3 fatty acids and glucosamine) as well as Adequan injections and laser treatments several times a week. He also has a series of passive stretching exercises that should be performed three times per day. Benjen tends to be stiff for the first few minutes after getting up from rest, but he recovers well and is active after some nice stretches on his own. Of course, a little massage and some petting from his person never hurt, either!
Benny's ideal home is calm and relaxed, with an established routine. First time Frenchie owners are fine, but someone experienced with anxious or dominant dogs is preferred. Benjen needs a strong leader who can help him feel secure, and who is dedicated to continuing his training and his arthritis treatment. Benny will reward you a million times over with love, snuggles, and Frenchie snuffles.
Wanna adopt?
Please visit the French Bulldog Rescue Network's website and fill out an application. Click the Frenchie you are wanting to adopt, and you will find an "Apply For Me" button on their information. Please be sure to read their adoption process. Here is the link:
http://www.frenchbulldogrescue.org/adoption-info/available-dogs2/
To view more Frenchies from FBRN, follow this link:
http://frenchbulldognews.com/forumdisplay.php/38-USA-French-Bulldog-Rescue-Network
Please let them know you found them on French Bulldog News!