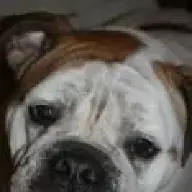 Joined

Apr 23, 2013
Messages

1,283
Reaction score

8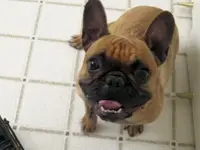 Calling all pumpkin lovers! Citrouille ("pumpkin" in French) is available and she knows "la troisieme fois est un charme" (the third time is a charm)! Don't worry, you needn't speak French in order to apply for this gorgeous young lady. All you need is a lot of love, dedication, and commitment. This gregarious frog was originally surrendered when her former family no longer could afford her medical bills. She was adopted twice but has found her way back to FBRN knowing that her perfect forever family is still out there. Will you be the lucky one?
If you're not familiar with Citrouille (see-troo-ee), she lives with seizures but does not suffer from them. She is as sweet, smart, loving, and, yes, mischievous as Frenchies get. She has gone as many as 5 months seizure free but, due to some intolerance to her original medication, she is adjusting to a new regimen. As her medication levels stabilize, she is having fewer and fewer seizures. In addition, her foster mom has found that a raw diet helps to diminish seizure activity and is keeping Citrouille svelte. Those anti-seizure medications can sure make a gal hungry! So hungry in fact, you will have to watch her around digestible hazards like compost, bark and any disgusting thing she might find on the ground. In addition to continuing a raw diet, she will need reliable access to a doggy neurologist for routine and consistent follow ups and lab draws. Her medication is given twice a day and costs $50-75 a month but her love and kisses are free and unlimited!
Citrouille is housebroken and responds well to structure and correction. Setting up rules and boundaries will keep her energy focused in a positive direction. She is an exuberant pup, eager to please, and loves everyone. While taking walks, her foster mom has noticed Citrouille develop a favorite past time called "drive by's:" randomly planting sweet kisses on stranger's legs. When not kissing everyone, she is just as content chewing a Nylabone, antler or playing with balls and stuffies. Be careful not to leave your favorite pair of shoes lying around because Citrouille's motto is, "if I can find it, I can play with it." She has been known to exhibit some Houdini-like skills: getting up on counters and in closets and cabinets so the perfect environment would be a stay-at-home mom or dad or someone that can take her to the office every day. She should not be crated due to potential seizure activity but, if she has to be alone for any extended period of time during the day, she would do well in a secure, safe area free from any hazards and without access to the shoe closet. She would also need a midday potty break.
This fabulous Frenchie would prefer an apartment or a single-story house with a fenced yard and no pool. She does not bark, even when egged on by her four-legged foster siblings. However, you may be serenaded with sweetest sounds of "woo, woo, woo" as she carries her antler around the house. While she loves everyone and is a true pacifist, her exuberance, seizure activity, and love of toys will be too much for kids under age 12. She is an earlier riser so you must be the same and be willing to explore each and every day with your new partner in crime.
Her foster mom has this to say, "Yes, she is a lot of work, but she is probably the nicest, happiest dog I have met and pays you back for all that effort with loads of love and smiles. She is a dog who needs and gives a lot of love. She needs a forever home that wants to wake up every morning with her, smiling at the world, bursting with joy eager to check out what wonders the day has in store for them."
Citrouille hasn't given up and knows you're out there: the right forever family with whom she can share her energy and love of life. You don't need to be experienced with Frenchies but some seizure knowledge would be preferable. The most important thing is dedication and commitment to providing a loving, stable, and permanent home for this adorable clown, whatever curve balls life may bring. Your life will be enriched by hers so take that leap and become this lil' pumpkin's charm! She thanks you with a puppy play bow and lots of kisses.
If you are in the market for a punkin with a penchant for platform shoes, be prepared to travel to pick her up. Citrouille is performing her public service drive by's in northern California.
Wanna Adopt?
Please view the adoption process and fill out an application at their website ---> FB Rescue Network
To view more available Frenchies from this rescue, click this link ---> FBRN
Thank you for considering adoption for your next family fur-mate!
Please let them know you found them on French Bulldog News!
Last edited: