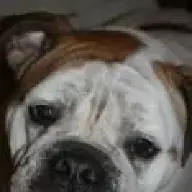 Joined

Apr 23, 2013
Messages

1,283
Reaction score

8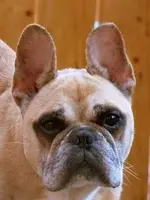 Location: Central FL
Age: 7 years
Sex: Male
Weight: 26.6 pounds
Kids: Yes, older children preferred
Cats: No
Dogs: Yes, calm dogs ok
Fenced Yard: No preference
Adoption Fee: $500
Cort is a follower and a loafer. He follows his foster family every time they leave the room and lays down nearby. He even sits outside the shower on the bathmat waiting until his people are done showering. Cort absolutely loves lying in dog beds all day long. He does not need a lot of exercise or a fenced yard. He does not stay outside long in his foster family's fenced in yard before requesting to come back inside. He does like to go for car rides but may get car sick on long rides.
Cort loves all kinds of toys but especially prefers toys that squeak or tennis balls. He also loves bully bones. He loves playing fetch, and will push his tennis balls under furniture and bark for you to retrieve them. Cort is a very sweet boy. Cort is the toy master and just loves toys. He did snap at the other Frenchie once over a toy, but he was immediately corrected and his toy was taken away. He has not had an issue since but should be watched when new toys are introduced.
Cort is house trained for the most part, but his foster family did notice he has peed in his bed after being left home all day during work. He is gated in the kitchen and has free roam of the kitchen but chose to pee in his bed. Cort will do well in any home but preference will be given to a quiet home without small children and with a calmer dog. While he does enjoy playing with other dogs, he can't keep up with a young, frisky puppy as much.
Cort would do well in any type of home as he does not run around much or require much exercise. He does not require a fenced in yard as he prefers being indoors all day. He would be a perfect office dog as he is a quiet loafer. He loves people and rarely ever barks. He does make some funny snorty noises and grunts, but they would only add more character to the office. Cort would be fine being home while his owner works, but he would do best with someone who could let him out for mid day breaks.
Cort has hypothyroidism that he is currently taking medicine for. While this may be cleared up soon, he will need to be monitored in case of a re-occurrence. The only symptom that he displays is excessive thirst. His new owners will need to continue to monitor his condition and be prepared to continue with his medication throughout his life. He may have allergies as he does lick his paws, but overall his paw licking seems to be more of a habit. Other than this Cort is a healthy, happy boy.
Wanna adopt?
Please visit the French Bulldog Rescue Network's website and fill out an application. Click the Frenchie you are wanting to adopt, and you will find an "Apply For Me" button on their information. Please be sure to read their adoption process. Here is the link:
http://www.frenchbulldogrescue.org/adoption-info/available-dogs2/
To view more Frenchies from FBRN, follow this link:
http://frenchbulldognews.com/forumdisplay.php/38-USA-French-Bulldog-Rescue-Network
Please let them know you found them on French Bulldog News!