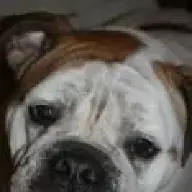 Joined

Apr 23, 2013
Messages

1,283
Reaction score

8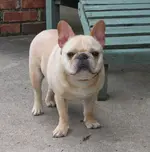 Location: Central Indiana
Age: 4 years old
Sex: Neutered Male
Weight: 22 pounds
Kids: Yes, ages 10+
Cats: No
Dogs: No
Fenced Yard: No Preference
Adoption Fee: $500.00
Surpassing his namesake, Gatsby isn't just great, but truly one-of-a-kind… and that's just how he likes it. Gatsby outgrew his former home because he did not get along with his former owners' small children. Now, he's come to realize that he would probably prefer to be an only pet in his forever home.
Gatsby has slight urinary incontinence and a weak rear gait. Gatsby wears a belt because he occasionally dribbles, but he knows the full unload always happens outside. If he's had to hold it for more than a few hours, he will walk and pee at the same time when outside. He's got a steady No. 2 routine, but there's been an accident on occasion. It's imperative that his forever family be prepared to deal with his medical issues and be careful with his weak hind legs. A regular routine is key to avoiding accidents, but even so, a perfect family for Gatsby would be prepared for occasional accidents and would never get angry with him for what he can't help.
You may have preconceived notions that Gatsby is used to the fancy high-life what with his name and all, but he's really a laid-back loafer who likes to play for a short time, then is ready to move on to something different. His foster dad says that a short walk makes him feel like he's had a full day. Although the vacuum cleaner is his mortal enemy, he's very curious about new things and always loves a good chew toy. He'll chew on Nylabones and socks, and recently discovered he likes his foster mom's slippers too. He enjoys playing tug, chewing on his toys, walking in the snow, getting his belly rubbed and ears scratched, but mostly he likes to lounge on a pillow on the living room floor.
Gatsby can be food aggressive with other dogs, but has no shown any food aggression towards people. He can be vocal when you try to pick him up, but stops when verbally corrected. Unsurprisingly for a stubborn bully breed, Gatsby does not like being pushed away. His foster parents say Gatsby can talk a good game, but isn't physically aggressive and has never bitten anyone since coming to FBRN.
Gatsby would be a great companion for someone with a slower pace of life, who can take him outside everyday for a quick walk, set him up and down off the furniture because of his weak hind legs, and allow him to be the primary target of their affection. It's preferable that his forever owners have experience with stubborn breeds, so please discuss how you plan to deal with the strong-headed Gatsby. Being outdoors holds no particular charm for Gatsby, so he would fit in well in any setting, including a city, in either an apartment or house without a lot of stairs.
Ideally, Gatsby would have someone who is home all day with him. But he can also do well with an owner that can come home everyday on their lunch break to give Gatsby a potty break during his sleep-filled day. Given the right guidance and direction, he could become a decent office mascot, provided he is the only one.
Wanna adopt?
Please visit the French Bulldog Rescue Network's website and fill out an application. Click the Frenchie you are wanting to adopt, and you will find an "Apply For Me" button on their information. Please be sure to read their adoption process. Here is the link:
http://www.frenchbulldogrescue.org/adoption-info/available-dogs2/
To view more Frenchies from FBRN, follow this link:
http://frenchbulldognews.com/forumdisplay.php/38-USA-French-Bulldog-Rescue-Network
Please let them know you found them on French Bulldog News!