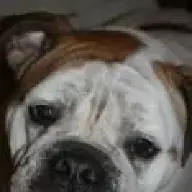 Joined

Apr 23, 2013
Messages

1,283
Reaction score

8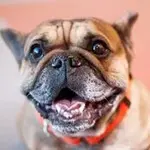 Location: South Central PA
Age: 6-8
Sex: female, spayed
Weight: 29 pounds
Kids: No
Cats: No
Dogs: No
Fenced Yard: Required
Adoption Fee: $250
Megg is a breeder retiree, a five-time excellent mom, who was adopted to a family with a toddler. The toddler was yanking on her collar one day and Megg snapped at the child, so she was surrendered (Megg, obviously. Not the toddler). While in foster care, Megg has shown that she really prefers to not have kids around. After having five litters of pups, we can't say that we blame her.
Megg loves to go out for walks and is happy to accompany you anywhere. She enjoys chewing Nylabones and, of course, napping. Megg's #1 desire is to be with her human. She feels safest and most secure with a strong, confident leader.
Megg has shown some guarding traits. Megg needs to be the only dog in a forever home where she can bask in attention that is hers and hers alone. She's a natural alpha girl, and though she is very affectionate and loving and people-centered as Frenchies are designed to be, she's not a clown. She's more queenly in bearing.
Megg loves to receive attention and affection. Megg doesn't go for someone forcing themselves into her space. She's not an "in your face" kind of girl and while participating in some holiday activities (they'd been drinking), someone put their face into Megg's face-space and Megg let them know that this was NOT okay. A second person who'd been drinking also tried to be friends and was rebuffed. We think Megg would like to live with people who don't often entertain and who rarely drink alcohol. She seems sensitive to alcohol fumes.
Megg is housetrained and crate-trained (but you must pay attention and let her out when she alerts you, or she'll foul the crate), though she would prefer to sleep in the human bed with you.
An x-ray shows that in the past she had an issue with her spine, but it seems she has recovered and has no trouble getting around. She's a trotter, never walking when she can trot, and she's very big on supervising her people's activities. She's also a bounder, and enjoys bounding onto and off of furniture, which should be discouraged considering her previous back injury.
Megg should live in a house with a fenced yard -- she loves chasing squirrels and rabbits a little too much. However, she walks very politely on leash, and is usually content with a Nylabone to relax with. Going for walks would help Megg burn off some of the energy she feels she needs to expend bounding around the house.
Megg is considered a senior, so the more time you spend with her, the better. One look in her soulful eyes, who could resist? Megg might make a good office companion, as long as people who may come in and out of the office understand how to properly greet dogs or her family can keep her in an area that's not high traffic. Preference will be given to families where she can be with someone all or most of the day.
Wanna adopt?
Please visit the French Bulldog Rescue Network's website and fill out an application. Click the Frenchie you are wanting to adopt, and you will find an "Apply For Me" button on their information. Please be sure to read their adoption process. Here is the link:
http://www.frenchbulldogrescue.org/adoption-info/available-dogs2/
To view more Frenchies from FBRN, follow this link:
http://frenchbulldognews.com/forumdisplay.php/38-USA-French-Bulldog-Rescue-Network
Please let them know you found them on French Bulldog News!