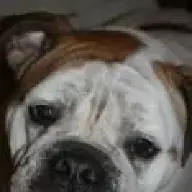 Joined

Apr 23, 2013
Messages

1,283
Reaction score

8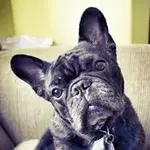 Location: E MN
Age: 3 years
Sex: Male
Weight: 22 pounds
Kids: Yes
Cats: Yes
Dogs: Yes
Fenced Yard: No Preference
Adoption Fee: $250
The sweet morsel Morty is on the lookout for his forever home! Morty was tearfully surrendered after a divorce when his owner found working 3 jobs left no time for a furry friend.
Morty was on steroids for allergies and having accidents, likely due to the drugs. He has been transitioned to a grain-free, fish based diet, which he will need to be kept on--it's more expensive than most foods. He also gets a medicated bath and essential oil massage occasionally to keep his skin happy. While in foster care, a painful spot on his tail was discovered. After a radiograph, it was determined he has spondylosis of the spine. His tail is also malformed, causing some pain. His vet has another patient with the same condition that is doing well with chiropractic adjustments every 5 to 6 weeks. Preference will be given to applicants who live in an area that has an animal chiropractor and who will commit to taking him. He will also need to be kept on glucosamine supplements. Many dogs, and people, live with this disease and have a good quality of life. Morty is fortunate to have a wonderful veterinary chiropractor who has committed to providing Morty with lifetime treatments at 50% of the usual rate. If you are in the east MN/twin cities area, that might be an additional plus in the lengthy "pros" side of the "reasons to adopt Morty" list.
Morty has been exposed to kids of all ages, except babies, but has shown no distress. Kids on bikes, in strollers, and screaming in the park do not faze him! He loves their pats and caresses too! Morty has also encountered cats at the vet office, and he has showed zero interest in them. Morty lives with 4 dogs currently and tested their boundaries. He tried to dominate, but once he learned the pack order, he quickly settled into his place. He has not challenged the order since. Morty will growl occasionally if he wants to be left alone while chewing, which is a normal dog way of communicating, but applicants with small children should be aware of the behavior. He allows people to take bones away with no problem.
Morty is just an all around sweet, laidback boy. He is very happy with a 15 to 20 minute walk, playing with toys, and napping on your lap. He has easily fit into his foster home and quickly learned the routine and his place. He can push boundaries if someone lets him, but responds well to light corrections. Treats and positive reinforcement are very motivating for him. He is not stressed out by new situations, loves car rides, and meeting new people and dogs.
Although Morty was reported to have accidents, he has not had a single one in his foster home! His potty training issues were likely due to steroids and long periods of time in the crate. He knows the command "Go Potty" and runs to the door to be let out. Morty also knows sit and speak, and is an excellent leash walker. For recreation, Morty loves stuffed animals. He will happily play tug of war or entertain himself. Morty also enjoys walks, cuddling, and food games!
Morty would be happy in a home with kids and/or other dogs. He does not have an inclination to bolt, so a fenced yard is not required. However, Morty cannot be tied to a stake due to his back. He does not appear to have any breathing issues and does not snore. First time Frenchie owners are okay, as long as they have general knowledge of establishing a pack order. Morty would be happy in any home, as long as he gets some mental and physical stimulation, and of course lots of love.
As Morty could potentially regress with his potty training if kept alone for extended periods of time, ideally someone would at least give him a 20 minute mid-day break. He has never gone longer than 4 hours while in foster care. He would also make an excellent office companion, as new situations do not distress him and he is very polite when greeting others.
Wanna adopt?
Please visit the French Bulldog Rescue Network's website and fill out an application. Click the Frenchie you are wanting to adopt, and you will find an "Apply For Me" button on their information. Please be sure to read their adoption process. Here is the link:
http://www.frenchbulldogrescue.org/adoption-info/available-dogs2/
To view more Frenchies from FBRN, follow this link:
http://frenchbulldognews.com/forumdisplay.php/38-USA-French-Bulldog-Rescue-Network
Please let them know you found them on French Bulldog News!