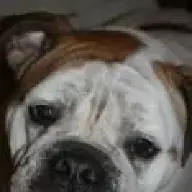 Joined

Apr 23, 2013
Messages

1,283
Reaction score

8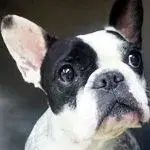 Location: West Central Florida
Age: 6 yrs
Sex: Female
Weight: 22 pounds
Kids: Yes, 7+ years old
Cats: Yes
Dogs: Yes
Fenced Yard: No preference
Adoption Fee: $250
Look who's rolled on over to the available page! It's Serenity – spotted cart-girl extraordinaire!
Serenity was found hanging out in a local county animal services agency, having been picked up as a stray. Because she had limited mobility in the rear, she was set for euthanasia. FBRN scooped her up and she's been improving and flourishing ever since.
Serenity is a super happy, playful and loving dog. She loves to cuddle, give kisses and absorb attention for her humans. She loves everything and everyone. In her foster home, she's been around their outdoor cat and basically showed no interest. She lives with other dogs and loves to play with them and she's been around kids who are over 7 years old and adores them. She has no problem sharing her toys with her foster siblings and has never shown any resource guarding.
Serenity isn't a candidate for surgery to improve her mobility. It's thought that her issue is an old, untreated injury. It's okay though, because Serenity doesn't realize that this is an "issue." She loves using her Eddie's Wheels cart outside and on short walks. In the house, she'll scoot around the hardwood and tile floors like a pro. She's not in pain and she doesn't let her lack of mobility get her down. Other than her mobility issues, she has no on-going health concerns.
Serenity is housebroken and in spite of being down in the back, still has control over her bladder and bowels. However, because she does drag her rear, caution should be taken and she sometimes needs help outside to potty. A sling works well for her or just kind of setting her up to potty in the grass then making sure she quickly moves on is fine. Sometimes if her foster parents are going to be gone a while, they'll express her bladder so she won't have accidents and to help prevent urinary tract infections, which can be recurrent in dogs who have mobility issues. Keeping her on a potty schedule helps a lot. Her foster parents will also sometimes keep her in a diaper at home, just so when she's scooting around the house she won't rub herself raw. Besides, it's very cute!
Serenity loves to chew her toys. She adores her Nylabones and antlers as well as soft toys. If it's a toy, it's a favorite for Serenity. She also loves to follow her people around to make sure she's always near them. She loves walks outside with her cart and even has gone for walks in a stroller. She really enjoys being outside if it's not too hot and just really loves life.
Serenity would do well in a house, apartment or condo but she is unable to do stairs at all so a ground floor, single-level is preferred. She is crate trained but if her forever family is gone to work all day, she would require a mid-day potty break. What dog walker wouldn't love the chance to spend some time with this lovely lady? She would be fine in a calm, quiet household or an active one. She really is an adaptable lady. Ideally, she'd love to have her human home with her most of the day but that's not required.
Serenity might work in an office but it would depend on the setting and the tasks and responsibilities of her human. Because of her special potty needs and her cart usage, she might not be ideal for an office dog, but given the right workplace, she could be an inspirational and delightful addition. Her personality is the perfect kind for an office setting.
This amazingly sweet girl needs a very special and dedicated forever home. In spite of her issues she's a pretty easy girl to take care of but her forever home will need to understand that she is prone to UTIs and will be willing to learn how to help her with potty routines. She is currently eating a raw diet and this has worked amazingly well for her. Remember that raw diets don't necessarily mean that you're processing the food yourself. There are many quality raw diet foods available for dogs, including the one that Serenity currently eats.
Wanna adopt?
Please visit the French Bulldog Rescue Network's website and fill out an application. Click the Frenchie you are wanting to adopt, and you will find an "Apply For Me" button on their information. Please be sure to read their adoption process. Here is the link:
http://www.frenchbulldogrescue.org/adoption-info/available-dogs2/
To view more Frenchies from FBRN, follow this link:
http://frenchbulldognews.com/forumdisplay.php/38-USA-French-Bulldog-Rescue-Network
Please let them know you found them on French Bulldog News!