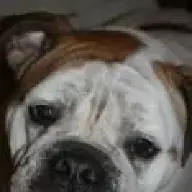 Joined

Apr 23, 2013
Messages

1,283
Reaction score

8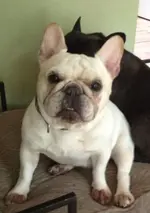 Name: Sponge
Age: 5, She will be 6 in July
Gender: Female
Color: Cream
Weight: 24 pounds
Spayed/Neutered: Yes
Temperament: Active in play only, a bit of a clown
Temperament Details: Active in play only, but she cannot be left unsupervised. Recommended that she is crated when left unsupervised. She will climb onto end tables if gets on the couch.
Activity Level:Calm and active in play only
Likes Dogs: Likes All Dogs
Likes Cats: Unfamiliar with Cats
Likes Kids:Yes, children over 5 would be best
Object Aggression: Not at All
Veterinary Status: Yes
Handicapped: No
Medical Issues:mild allergies typical of French bulldogs and deep facial folds that need to be maintained daily
Dog Registered: No
Crate Trained: Yes
Housebroken: In Progress
Formal Training: No
Shipping Okay: No
Requested Fee: $500.00
Reason for Placement: She was surrendered when her owner's health declined. One of the EC 12 that were surrendered.
Ideal home for Sponge would be a patient owner that will continue her potty training. A fenced back yard which will make potty training easier by walking around the yard allowing her time to do her business would be ideal. When left unattended, she will need to be crated for her safety. Her new owner will need to allow her plenty of time to eat while being near her. Sometimes Sponge barks when being left alone. This needs to be taken into consideration because she may not be ideal for an apartment of condo where this may annoy neighbors. Sponge came into foster care with some mild allergies. At that time she was given a daily Benadryl to manage the itching. However, she has improved with a diet change to a grain free kibble and finished a round of antibiotics to clear up the bumps she came into foster care with. Due to her mild allergies she is being currently treated for a chronic ear infection. Sponge has very deep facial folds that may continue to require daily maintenance. Her folds were inflamed and hairless when she came into foster care. Her foster parents are currently treating them daily and the inflammation has cleared up, but will require daily cleaning and keeping them free of moisture so they will stay free of infection and grow fur back in that area. Despite the allergies and other listed issues, Sponge now does not seem to be bothered by them. Sponge will need some one patient and diligent enough to continue her potty training, while doing what is required to maintain her allergies and folds. Sponge is a great companion, she loves attention. She isn't very active, but in spurts plays with her foster siblings. She loves to get belly rubs, occasionally chew on a nylabone, cuddle with her person or another canine companion. She will follow her owner around, and cuddle on the couch. Someone home most of the day with her would be best in order to provide the love Sponge so desperately is ready to sponge up. If you think you can provide this frenchie girl with the patience, time, love, care, belly rubs and couch cuddle time then consider adopting Sponge.
Wanna adopt?


Please visit the French Bulldog Village's website and fill out an application. Read the Adoption information and fill out an application, make sure you read and understand their adoption process.

Here is the link:

http://frenchbulldogvillage.net/


To view more Frenchies from French Bulldog Village, follow this link:

http://frenchbulldognews.com/forumdisplay.php/39-USA-French-Bulldog-Village

Please let them know you found them on French Bulldog News!
Last edited: