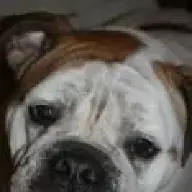 Joined

Apr 23, 2013
Messages

1,283
Reaction score

8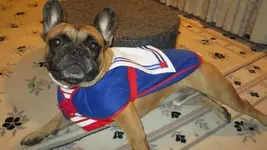 11/22/13 Available Thud NY
Location: Long Island, NY
Age: 3
Sex: neutered male
Weight: 30 lbs
Kids: no
Cats: no
Dogs: yes, with caution (see bio)
Fenced Yard: preferred
Adoption Fee: $600
Did an angel fall from heaven? Because THUD! I heard a loud noise!
Thud is a handsome little devil, a 3-year old black masked fawn who was originally purchased off Craigslist then lived in two other homes before he came to rescue.
Like many puppies, Thud has a huge reservoir of energy. That and his excitability make him a handful; he has a history of biting if he is not handled with care. For instance, he is territorial around his toys, but only if the toy is new and highly prized. He can be pushy, dominant, stubborn, and he's very smart. He will need plenty of exercise, but he has so much love to give and is somewhat of a clown. Strong boundaries and some dog-savvy are required for this boy. Tell us about your experience training a strong-willed, smart dog in your application.
Thud is housebroken and crate-trained. In fact, his crate is the place to be for a nap during the day. Thud will need obedience training and will likely take to it, as long as there is a treat in it for him! A little training every day would be ideal -- he will take advantage if he thinks he can, so consistent leadership is needed, and classes would be a great set-up for that.
Thud is very food-motivated and he loves walks, car rides and playing fetch. A Wubba, antler or Nylabone will also keep him entertained.
Thud would thrive in a quiet home with Frenchie-experienced adults, no kids and no cats or other small animals that he might see as prey. Calm dogs, introduced carefully, would be fine. He also has some seasonal allergies that need a bit of attention.
A fenced yard or some other safe environment would help him run off some of his energy, and he needs someone at home during the day. He isn't ready to go to the office.
Thud is a very particular dog, but in the right home -- lots of exercise, a good diet, and regular training -- he will be a wonderful companion. There's no lack of love from this guy, he has personality plus, and hey, he ain't halfway bad-looking!
Wanna adopt?
Please visit the French Bulldog Rescue Network's website and fill out an application. Click the Frenchie you are wanting to adopt, and you will find an "Apply For Me" button on their information. Please be sure to read their adoption process. Here is the link:
http://www.frenchbulldogrescue.org/adoption-info/available-dogs2/
To view more Frenchies from FBRN, follow this link:
http://frenchbulldognews.com/forumdisplay.php/38-USA-French-Bulldog-Rescue-Network
Please let them know you found them on French Bulldog News!