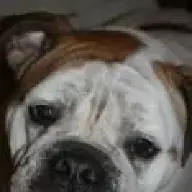 Joined

Apr 23, 2013
Messages

1,283
Reaction score

8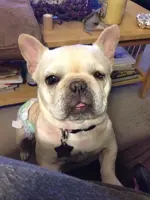 Location: Maryland
Age: 4
Sex: Spayed female
Weight: 19 pounds
Kids: Yes – over 12 years
Cats: No
Dogs: Yes – submissive females
Fenced Yard: Not required
Adoption Fee: $250
At some point during her 4 years, Vitara suffered a severe spinal trauma. An MRI revealed that she has a ruptured disc and significant spinal swelling, as well as a congenital deformity causing further compression to her spine. She has no reflexes and minimal deep pain sensation in her back legs. This causes Vitara to be unstable on her back legs, and she is unable to control her bowels or bladder. Although she understands the basic concept of going potty outside, she generally doesn't realize she has to go until it is too late. As a result, she must wear diapers when she is indoors. Vitara will not recover from her incontinence, and potential adopters must be aware that there is always a possibility that her spine will become worse over time.
Vitara is also blind in her left eye, and her left eyelid does not close all the way shut. In addition, you may have noticed that her tongue doesn't seem to fit in her tiny little mouth. If you ask us, that only adds to her charm!
Personality-wise, Vitara is the epitome of a Velcro Frenchie, following her foster mom from room to room and welcoming her home with wiggles and happy snorts. Her favorite place to be is on her person's lap, and she can never get enough cuddle time. Although Vitara spends most of the day loafing around the house, she has bursts of energy during which she enjoys fetching balls and playing with her beloved plush fox. She does not initiate play with her foster sisters, but will gladly accept an invitation for a bit of (gentle) rough-and tumble. Vitara's wobbly legs have no impact on her energy or exuberance—like all of our disabled dogs, she has no idea that she is any different from anyone else, and lives every day to the fullest!
Because Vitara is so people-focused, we think she would be happiest as an only dog. That said, she lives a relatively conflict-free existence with her three submissive foster sisters. The four girls enjoy playing together, although Vitara can get a little cheeky if she is sitting on her foster mom's lap and another dog approaches for a pet. This behavior is quickly corrected with a "no" and displacement onto the floor. As for children, they suit Vitara just fine, although they must be old enough to understand her limitations and not engage her in activities that could cause further damage to her spine, like picking her up--which many children seem to find irresistible--the potential of further injury falling an accidental drop is too much to risk.
Vitara is crate trained (although she prefers to be out of it) and can be left alone for a few hours at a time before she needs a diaper change. Her sunny disposition and love for people would make her a perfect office companion!
Wanna adopt?
Please visit the French Bulldog Rescue Network's website and fill out an application. Click the Frenchie you are wanting to adopt, and you will find an "Apply For Me" button on their information. Please be sure to read their adoption process. Here is the link:
http://www.frenchbulldogrescue.org/adoption-info/available-dogs2/
To view more Frenchies from FBRN, follow this link:
http://frenchbulldognews.com/forumdisplay.php/38-USA-French-Bulldog-Rescue-Network
Please let them know you found them on French Bulldog News!