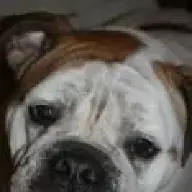 Joined

Apr 23, 2013
Messages

1,283
Reaction score

8

Location: S CEN CT (adopters must live within 3 hours of New Haven)
Age: 5
Sex: M
Weight: 22 lbs.
Kids: No
Cats: No
Dogs: No
Fenced Yard? Preferred
Fee: $250
Oh, Wilson, you beautiful beast! Wilson has been adopted and returned. Again. Though his trainer/foster parent went over things with his adopters, they chose to ignore the structure and stability rules she had taught them and there was a dog fight and in breaking it up, someone was bitten. In his first adoptive home, he also bit. Applicants should apply only if they are truly willing and able to follow directions and maintain the important boundaries and rules for living that Wilson's trainer has instituted. Please don't apply for Wilson if you do not intend to learn from and take direction from his trainer. We know Wilson is a good looking animal. It would be a feather in anyone's cap to be seen in his company, and when those eyes turn and look at you, we would be tempted to just give in, too. But he's not a status symbol or a sweet baby. He's an insecure, deaf dog who needs structure and routine. If you can and will provide those things, read on!
Wilson is a deaf Frenchie with a certain amount of bossy attitude and simple needs, yet he only requires a few equally simple rules to live a happy and contented life with his people. He does not enjoy the company of other dogs and tends to see them as threatening and competing for his resources, so being an only dog in the home is essential for his well-being and to limit the occasions for him to act out. In the past, without guidance, Wilson has been very possessive of toys, food, and other objects just to demonstrate that he can control the situation. In his current foster home he has been learning that there is no need to live such a stressful life and that obeying the house rules is a far more relaxing way to live and gets him more snuggle time. Five minutes on a lap or a head rub has this boy.
He can be cautious and mistrusting of new people, not wanting them to touch his head or pick him up. His bite history means we won't place him in a home with children or where children are frequent visitors. Wilson is crate trained and knows basic hand signals. Wilson is housetrained, but he will occasionally mark a dog bed. When he has to go out he will go to the door and wait. If he is in his crate, he barks to go outside.
He would not be a good go-to-work candidate because strangers cause him some distress. He has enjoyed living in a natural setting, without a lot of fast-moving cars or city stimulation, so someone with a house on some property would be a good match.
Because he is deaf, he must be on a lead or in a fenced yard at all times. He can't hear you calling if he gets loose. In your application, tell us about your experience with deaf and/or willful dogs.
From his foster mom: "Wilson needs to live with calm confident people who can set boundaries for a dog and know that they are for the dog's own good. When he lives in this kind of environment, Wilson is a fun little character with a sweet and loving personality and is a great companion."
Wilson's trainer lives near New Haven and would like to meet with applicants in person at least once before handing off Wilson. Therefore, applicants for Wilson should live within a 3 hours' trip from New Haven, CT.
Wanna Adopt?
Please view the adoption process and fill out an application at their website ---> FB Rescue Network
To view more available Frenchies from this rescue, click this link ---> FBRN
Thank you for considering adoption for your next family fur-mate!
Please let them know you found them on French Bulldog News!
Last edited: